VALUE-ADDED SERVICES
Marco Rubber & Plastics believes that providing ideal O-rings, gaskets and sealing solutions is only part of delivering world-class customer service. Since 1980, our inventory has been backed by best-in-class service and support. Review our line of value-added services here and learn how we can serve your every O-Ring need, from packaging and labeling to part finishing and identification, and more. Connect with our team today to learn more about these services and pricing.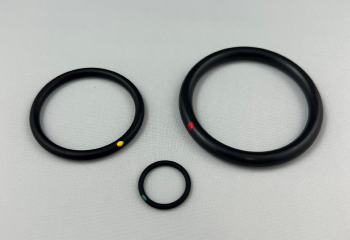 ---
Packaging, Label Services, and Part Finishing
Our value-added services can address every aspect of your order with Marco Rubber & Plastics. From services to ensure your parts arrive in the condition you need, to proper labels and packaging options that aid your production, we provide solutions that support your business.
Bagging
Bulk bagging is standard but we customize bagging per your request with unlimited parts per bag, labels or printing on bags, and even Mil-spec bags
Marking
From color dotting services to part numbers or specific labels, we can add identification markers to each part
Cleaning
A Clean Room using an alcohol/DI water mix for cleaning and provides Class 1000 ISO 6 bench area for drying and packing in a certified Class 100 bag
Assemblies
One popular example is the assembly of a center ring with a specific size O-Ring
Kitting
Kits are configured according to customer requirements. For example, all components together in one bag or each component bagged separately
Coating
Parts can be coated with different substances required by the customer, i.e. PTFE or Parylene. Specific vendors are trusted with the task
De-Flashing
When it's essential to have no flash, we'll use special processes to ensure flash-free finished parts
Affidavit Support
We can provide documentation containing customer name and address, vendor PO and Part number, batch, cure date and the Harmonized Tariff Code
---
First Article Inspection and PPAP Support
Marco Rubber & Plastics supports two types of First Articles of Inspection (FAI):
The Marco Form — This is a strictly dimensional report containing information such as PO, Part Number, Batch, Cure Date, quantifying the part dimensions, revision and tolerances for each dimension.

AS9102 Rev. B — This form is usually required by an aerospace company or military sub-contractor. The form is composed of three sections called Form 1, Form 2 and Form 3. Each form requires different information regarding the part.
Production Part Approval Process (PPAP)
Marco Rubber & Plastics collaborates with you to complete the PPAP submission requirements. They are normally divided into five classifications or levels, as follows:
Level 1 — Part Submission Warrant (PSW) only submitted to customer
Level 2 — PSW with product samples and limited supporting data
Level 3 — PSW with product samples and complete supporting data
Level 4 — PSW and other requirements as defined by the customer
Level 5 — PSW with product samples and complete supporting data available for review at the supplier's manufacturing location
Connect with our team for more information about these processes.
---
Engineering, Inspection, and Stocking Value-Added Services
Our team of experienced sealing design engineers can improve sealing performance by helping select the best sealing products and material for your specific application. You can even send us a product to be reverse engineered; We can find suitable alternatives to provide better service and cost. Learn more about our capabilities here.
Our O-Ring inspection and identification services help you ID unknown parts and provide a complete scope of dimensional inspection services. We can create inspection reports using MICRO VU, state-of-the-art video microscope inspection equipment, that can sometimes be used instead of a FAI report. Our inspection capabilities ensure consistently high quality, accuracy, and precision in the products we provide. Connect with our team for more details and pricing.
Marco Rubber & Plastics can design service plans for inventory and fulfillment that help you maximize value. If you have high-volume usage, we can integrate business systems to reduce transaction costs. Blanket orders can leverage volume prices and reduce delivery time. Stocked orders and releases are typically shipped the same day.
Ready for Higher Quality & Efficiency With Marco Rubber & Plastics?
Marco Rubber & Plastics' o-ring services can improve the quality of your o-rings and the efficiency of your storing and delivery processes. Learn more about how we can help improve every aspect of your o-ring acquisition and use by connecting with us today.