Rubber Grommet Hole Size Chart and Dimensions
Find the Right Product for Your Needs with Our Rubber Grommet Hole Size Chart
Marco Rubber & Plastics stocks a huge inventory of Commercial Grade Rubber Grommets and Military Style MS35489 and AN931 series Rubber Grommets. Our standard shape rubber grommets are designed to be pushed into holes to protect wires, cables hoses and anything else passing through from damage and vibration. The exact shape, style and finish can vary, but perform the same function. SBR and NBR rubber grommet materials are interchangeable in most applications with NBR being a bit softer and specified by old military regulations.
$50-$100 minimum order typically for rubber grommets in stock depending on size and complexity.
$500-$1000 minimum order with additional $500+ one-time engineering fee depending on size and complexity typically for made to order size, shape or material rubber grommets.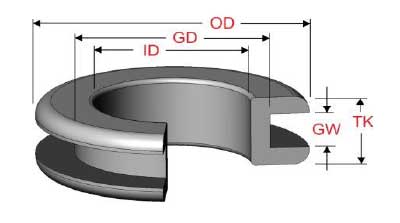 GW - Rubber Grommet Groove Width should approximately match the thickness of the installation wall.
GD - Rubber Grommet Groove Diameter (GD) should approximately match the installation hole size.
OD, ID and TK dimensions are typically less critical depending on the application.