O-Ring Size Chart for USA AS568 Standard O-Ring Dimensions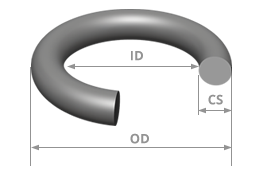 USA AS568 o-ring standard sizes are the most commonly used o-ring sizes in the world. Refer to our standard o-ring size chart to find USA AS568 o-ring dimensions. Order o-rings online from the world's largest inventory network including custom o-rings typically without tooling fees. O-ring tolerances vary by use, please refer to our o-ring tolerance pages or contact us for responsive expert service.
Choose Marco Rubber & Plastics
For more than 40 years, Marco Rubber & Plastics has been offering custom and standard o-rings and other sealing solutions for multiple industries. With millions of products produced and shipped annually, we are the experts your organization needs to seal the success of your application. Explore standard size o-ring sizes below.
Search Filter Buy Standard O-Ring Size Dimensions
If you'd like to discuss your specialty application with a product expert,
call us today at 603-468-3600