Fluorosilicone O-Rings FVMQ Selection Guide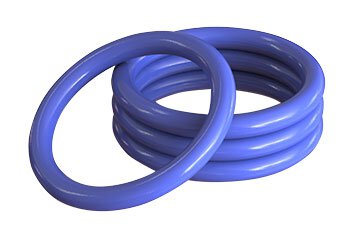 Fluorosilicone o-rings are a hybrid of silicone and FKM resulting in great jet fuel resistance with high and low temperature performance. Also widely used in semiconductor Ashing equipment with strong resistance to oxygen plasma, FVMQ fluorosilicone o-rings also feature excellent flexibility, compression resistance, aging and sunlight resistance, and overall wide range of basic chemical resistance.
Fluorosilicone o-rings from Marco Rubber are in-stock and ready to ship today. Leverage the direct purchasing power of the world's largest o-ring inventory network for fast shipping, low prices, and reliable service.
Or contact us to discuss custom specifications on fluorosilicone o-rings, which can usually be fulfilled without additional tooling fees within a few weeks.
Recommended Use
Not Recommended For
Mechanical Properties
Jet Fuel
Dry Heat
Wide Temperature Range
Some Petroleum Oils
Chlorinated Solvents
Ketones (MEK)
Phosphate Esters
Some Acids
Auto / Aircraft Brake Fluids
Amines (Ammonia)
Poor Wear Resistance
Moderate Comp. Set Resistance
Moderate Short-Term Resilience
Poor Permeation Resistance
Fluorosilicone Compatibility and Order Online Fluorosilicone O-Rings In Stock for Low Temperature Fuel Resistance
Hundreds more specialty compounds available. Contact a Marco Sales Consultant or Engineer for more information.
| Marco CPD# | Datasheet | Color | Duro (Shore A) | Relative Price | Typical Inventory Level | High Temp (F) | Low Temp (F) | Features |
| --- | --- | --- | --- | --- | --- | --- | --- | --- |
| F1001 | | Blue | 70 | | High | 350 | -80 | Aerospace Military Specification Mil-Spec AMS-R-25988 M25988/1-### per Mil-R-25988 CL-1 GR-70, jet fuel resistance |
| F1002 | | Blue | 75 | | Low | 350 | -80 | Aerospace Military Specification Mil-Spec AMS-R-25988 M25988/2, jet fuel resistance |
| F1003 | | Blue | 60 | | Low | 350 | -80 | Aerospace Military Specification Mil-Spec AMS-R-25988 M25988/3, jet fuel resistance |
| F1006 | | Blue | 40 | | Low | 350 | -80 | Jet fuel resistance |
Common Names:
Fluorosilicone, FVMQ
Fluorosilicone Trade Names:
Silastic® LS, FSE
Fluorosilicone O-RingsTemperature Range:
The temperature ranges presented above are approximations for dry air service only and should not be used to determine design specifications or end-use temperature limits. Actual temperature range of a compound in an end-use application is highly dependent on part type, hardware configuration, applied forces, chemical media, pressure and thermal cycling effects, and other factors. The most practical way of determining an end-use temperature range is testing in the actual application conditions. Consult a Marco Engineer for more details.
Fluorosilicone O-Rings Features and Resistances :
Excellent flexibility and resistance to compression set
Excellent resistance to aging and weather-sunlight
Resistance to oxidizing chemicals, animal and vegetable oils, fuels, aromatic and chlorinated solvents
Resistant to diluted alkalies, diester oils, aliphatic and aromatic fluorocarbons, silicone oil, toluene, benzene, ozone and oxidative environments.
Fluorosilicone O-Rings Limitations :
Brake fluids, ketones, hydrazine, adelhydes, amines, ketones
Poor abrasion resistance