Metal Detectable O-Rings Selection Guide
Metal Detectable O-Ring Material Compatibility to Detect Contamination in Food and Pharmaceutical Processing systems from Experts
Marco Rubber Supplies Metal Detectable O-Rings, Seals, Sanitary Gaskets, X-rings, and any custom shape desired.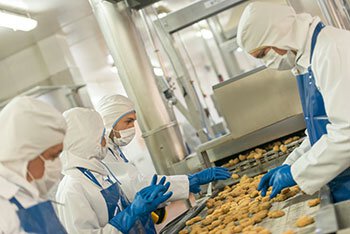 Metal detectable O-Rings and Rubber Seals are used with detection equipment to identify contamination. Over time and repeated clean in place, sterilization, and processing equipment components in food, beverage, and pharmaceutical processing equipment can degrade. As elastomer seals degrade, there is a high risk of rubber fragment contamination. Metal detectable O-rings and Seals are designed to work with Inline X-ray detection, Metal detection and Magnetic separator equipment for immediate contamination alert. Different base materials like FKM, Silicone, EPDM and Buna-N are filled with a unique combination of magnetic metallic fillers so easily detectable allowing systems to quickly reject contaminated product and trigger equipment PM to drastically reduce the potential of contamination of the final product. We have found the metal detectable O-Ring and Seal market is NOT one material fits all detection equipment and requirements. If the more popular materials do not work, Marco Rubber is equipped to offer fast prototype runs of custom formulated materials to confirm performance.
Popular Products:

O-rings, Micro and Giant
Tri-Clamp Gaskets or Sanitary gaskets
X-rings and washers
Custom Molded

Popular Materials:

Metal Detectable Rubber Materials
FDA Compliant per CFR 21.177.2600
USP Class VI Approved
X-Ray Detectable Rubber Materials
Clean Room Manufacturing and Packaging
ADI Free Materials
---
Metal Detectable O-Ring Material Compatibility to Detect Contamination in Food and Pharmaceutical Processing systems from Experts
Contact us for help selecting from these and the many more available.
*FDA compliance per 21 CFR 177.2600 parts A-D, E&F approved compounds available upon request. **USP <87> and USP <88> approved compounds available upon request.
The temperature ranges presented above are approximations for dry air service only and should not be used to determine design specifications or end-use temperature limits. Actual temperature range of a compound in an end-use application is highly dependent on part type, hardware configuration, applied forces, chemical media, pressure and thermal cycling effects, and other factors. The most practical way of determining an end-use temperature range is testing in the actual application conditions. Consult a Marco Engineer for more details.