Medical Grade O-Rings Selection Guide
O-Ring Materials for the Medical Industry from Experts
Marco Rubber manufacturers USP Class VI medical O-rings and medical grade seals in various rubber elastomers, including EPDM, silicone, Viton® and Markez® FFKM. Manufacturing and packaging in Clean Rooms is available with some compounds for the most critical applications.
USP Class VI O-Rings - United States Pharmacopeia
The United States Pharmacopeia (USP) is a non-government organization that promotes public health by establishing state-of-the-art standards to ensure the quality of medicines and other health care technologies. While this organization is concerned with the pharmaceutical and bio-technology industries, many manufacturers of hygienic equipment will be designing multipurpose designs that may be used in a range of different industry sectors. Standards are published in the US Pharmacopeias and the National Formulary (USP NF). Compliance to USP Class VI is often requested by end users. Testing for compliance involves an assessment of the effects of the material, and extractable, on tissue.
United States Pharmacopeia USP 26, NF21, 2003 Class VI Two types of biological reactivity test are applicable to elastomers, plastics and polymeric materials; Chapter <87> involves in vitro testing and Chapter <88> involves in vivo testing.
An additional requirement some of our O-Rings and materials meet is free from animal derived ingredients (ADI-free).
Pharmaceutical, food and water processing industries present many demanding sealing applications. Unlike other industries where chemical or temperature resistance is the key seal selection criteria, food and pharmaceutical applications can add the requirement of cleanliness and regulatory challenges. Elastomer seals used in process equipment, pumps, valves, pipe work, couplings, reaction vessels and bulk containers must be able to cope with a wide range of process media, potent active pharmaceutical ingredients (APIs) and aggressive cleaning and sterilizing processes. In addition, seals must be compliant with a growing range of legislative manufacturing regulations and hygiene standards. Marco Rubber offers a comprehensive range of sealing solutions compliant with the requirements of the Food and Drug Administration (FDA), United States Pharmacopeia - Class VI (USP Class VI) and 3-A Sanitary standards, as well as Good Manufacturing Practice (GMP) quality criteria. In addition to industry-standard Elastomers such as EPDM and silicone, Marco offers Markez® Perfluoroelastomers for extreme operating conditions, we also offer a range of FKM materials that are compliant or approved to different regulatory standards.
Popular Products
O-rings, Micro and Giant
Tri-Clamp Gaskets or Sanitary gaskets
PTFE encapsulated O-rings
X-rings and washers
Custom Molded
Popular Materials
FDA Compliant per CFR 21.177.2600
USP Class VI Approved
Metal Detectable Materials
ADI Free Materials
LIM silicone per customer specification
Clean Room Manufacturing and Packaging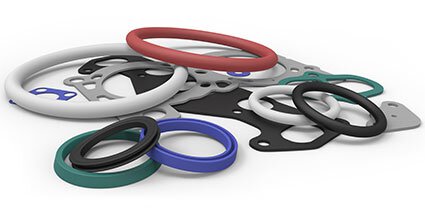 ---
Medical Grade O-Ring Material Compatibility and Order Pharmaceutical Grade O-rings Online In Stock from Experts
Contact us for help selecting from these and the many more available.
*FDA compliance per 21 CFR 177.2600 parts A-D, E&F approved compounds available upon request. **USP <87> and USP <88> approved compounds available upon request.
The temperature ranges presented above are approximations for dry air service only and should not be used to determine design specifications or end-use temperature limits. Actual temperature range of a compound in an end-use application is highly dependent on part type, hardware configuration, applied forces, chemical media, pressure and thermal cycling effects, and other factors. The most practical way of determining an end-use temperature range is testing in the actual application conditions. Consult a Marco Engineer for more details.