FDA O-Rings
Sealing Solutions for Human and Food Contact
We are experienced with the demanding applications found in the Food and Drug regulated industries.
Selecting the best material or seal design can increase service life and predictability,
and reduce contamination, resulting in higher efficiency.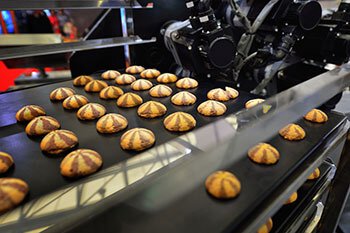 Marco Rubber manufactures FDA O-rings, FDA gaskets, FDA rubber seals and custom-designed components from a range of FDA compliant rubber materials, including FDA Buna-N, FDA EPDM, FDA Silicone, FDA Viton®, FDA Kalrez® and Markez® FFKM.
FDA O-Rings Compliant Food and Drug Administration FDA CFR 21.177.2600
The Food and Drug Administration is the US Federal Agency responsible for ensuring that food safety, wholesome and sanitary; human and veterinary drugs, biological products and medical devices are safe and effective; cosmetics are safe; and electronic products that emit radiation are safe. Although the jurisdiction of the FDA is restricted to the United States, FDA regulations are commonly adopted as international control standards. Through its Codes of Federal Regulations the FDA manages a list of materials and chemicals that are approved for contact with foods.
FDA CFR 21.177.2600 paragraphs A through D describe the relevant regulations for 'Rubber articles intended for repeated use'. This lists the ingredients, and any quantitative limits, that may be used in a rubber compounds for molded products intended for repeated use in all stages of food manufacture, preparation and transportation.
FDA CFR 21.177.2600 paragraphs E and F also specify limits on extractible products if the FDA rubber seal is to be used in contact with aqueous or fatty foods. The regulation specifies extraction test limits in water and n-hexane. It is important to note that for an FDA rubber material to be compliant to these requirements, and then this claim must be supported with appropriate documentation such as a manufacturer's FDA Compliance Certificate.
FDA does not 'approve' products to CFR 21.177.2600. It is for the manufacturer of the finished FDA rubber product to demonstrate compliance by issuing a FDA certificate. It is also important to note that whilst a component may be made from a FDA rubber material that is suitable for food contact; this does not mean that the part is technically suitable for its intended application.
CLASS OF USE FOR RUBBER ARTICLES

CFR21.177.2600

FDA REQUIREMENT FDA REQUIREMENT

LIMIT FOR EXTRACTIVES

Dry foods
(A-D)

Must be formulated and cured under
conditions of good manufacturing
practice as to be suitable for repeated use.

No specified test

Aqueous foods
(A-E)

Must meet extraction test criteria
(distilled water at reflux temperature).

First 7 hours: Not exceeding 20mg per square inch.
Next 2 hours: Not exceeding 20mg per square inch.

Fatty foods
(A-F)

Must meet extraction test criteria
(n-hexane at reflux temperature).

>First 7 hours: Not exceeding 175mg per square inch.
Next 2 hours: Not exceeding 4mg per square inch.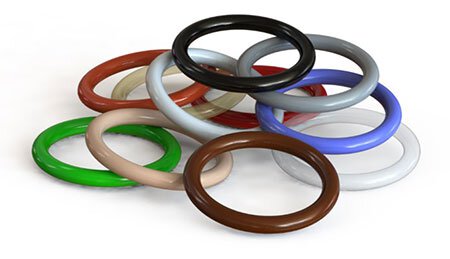 Popular Products:

O-rings, Micro and Giant
Tri-Clamp Gaskets or Sanitary gaskets
PTFE encapsulated O-rings
X-rings and washers
Custom Molded

Popular Materials:

FDA Compliant per CFR 21.177.2600
USP Class VI Approved
3A Dairy Compliance
NSF61, KTW and WRAS Approved
Metal Detectable Materials
ADI Free Materials
LIM silicone per customer specification
Clean Room Manufacturing and Packaging
Popular Compounds
Contact us for help selecting from these and the many more available.
*FDA compliance per 21 CFR 177.2600 parts A-D, E&F approved compounds available upon request. **USP <87> and USP <88> approved compounds available upon request.
The temperature ranges presented above are approximations for dry air service only and should not be used to determine design specifications or end-use temperature limits. Actual temperature range of a compound in an end-use application is highly dependent on part type, hardware configuration, applied forces, chemical media, pressure and thermal cycling effects, and other factors. The most practical way of determining an end-use temperature range is testing in the actual application conditions. Consult a Marco Engineer for more details.