FFKM O-Ring Guide for Chemical Processing and Storage
Learn About Materials Available for Semiconductor Grade O-Rings
We are experienced with the demanding applications found in the chemical processing and storage industry.
Selecting the best material or seal design can increase service life and predictability,
and reduce contamination, resulting in higher efficiency.
Chemical Processing and Storage
Chemical processing industry requires high performance sealing materials that offer excellent chemical resistance to various aggressive media. The diverse range of markets within this industry, including petrochemical and pharmaceutical, demand outstanding chemical sealing performance, reliability and increased service life, which in turn extends preventative maintenance cycles of mechanical seals.
Markez® Perfluoroelastomers provide the highest level of thermal and chemical resistance available, making them ideal for use in the most demanding chemical sealing applications. Compare price and performance to Kalrez®.
Marco Rubber can provide superior chemical sealing solutions for pumps, valves, mechanical seals, pipe couplings and reactors, which meet or exceed your requirements. To meet demanding chemical sealing applications, Marco Rubber seals are molded in a range of high specification materials capable of withstanding extreme temperatures and harsh chemical.
Need a custom product design or custom material formulation to improve performance in a specific application to separate yourself from the competition?

Let us prove how responsive our product and application engineers are and that our custom products and custom materials often cost less than our competitors standards.
O-rings
X-rings
v-rings and Packings
Custom Gaskets
Back-up rings
PTFE seals and O-rings
SES spring energized seals
Cap Seals
Wear rings and Bushings
Markez® Perfluoroelastomers
Viton® Extreme (ETP)
Aflas®
EPDM
FKM
Fluorosilicone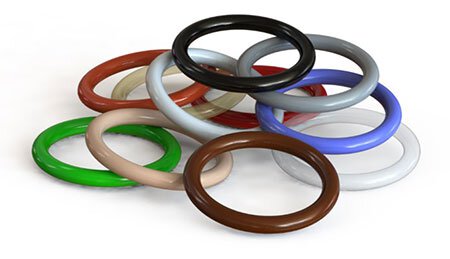 FFKM Compatibility Extreme Chemical Resistant Markez® Materials and Order O-rings Online from a FFKM O-Ring Expert
Compound Number

Color

Duro (A)

Price

Typical Inventory Level

Compare To

High Temp (°F)

Low Temp (°F)

Strong Acids

Hot Amines

Steam < 300 °F

Steam > 550 °F

Strong Oxidizers

Dry Heat

Z1028
Black
75
Kalrez® 6375
Kalrez® 4079
Kalrez® 7075
610 (320ºC)
5 (-15ºC)
Best value general purpose performance, higher temperature resistance, wide chemical compatibility.
Z1352
Black
75

Kalrez® 6375


Kalrez® 6380
Kalrez® 1050LF
500 (260ºC)
5 (-15ºC)
General purpose, good in most acids, solvents, improved hot amine and steam resistance with wide range of chemical compatibility.
Z1026
Black
75
Kalrez® 6375
Chemraz® 505
480 (250ºC)
5 (-15ºC)
General purpose, good resistance to most paint solvents use in spraying applications.
Z1416
Black
75
Kalrez® 6230
Kalrez® LS222
610 (320ºC)
-5 (-15ºC)
FDA compliant, higher temperature resistance, wide chemical compatibility.
Z1400
Black
75
Kalrez® 7075
Kalrez® 4079
Kalrez® 8900
635 (335ºC)
-5 (-15ºC)
Highest temperature FFKM with best long term compression set resistance up to 335ºC, short exposures up to 350ºC, Low sticking force, semicon metallic clean, low outgassing, wide range of chemical acid, solvent resistance, FDA compliant.
Z1412
Black
90
Kalrez® 7090
Kalrez® 3018
Chemraz® 510
590 (310ºC)
5 (-15ºC)
Higher temperature resistance Norsok M710 AED explosive decompression resistance, excellent resistance to Sour gas and associated chemicals and steam.
Z1403
White
75
Kalrez® 7275
Kalrez® 8575
Kalrez® 9500
600 (315ºC)
-20 (-30ºC)
Improved plasma resistance, higher purity, wider temperature range, low extractables.
Z1321
Black
75
Kalrez® 0040
480 (250ºC)
-50 (-45ºC)
Improved low temperature resistance for use in oilfield and gas exploration, wide chemical resistance.
Z1322
Black
90
Kalrez® 0040
465 (240ºC)
-50 (-45ºC)
Lower temperature resistance, AED explosive decompression resistance, providing the best overall temp range and Chemical resistance.
FKM Type Comparison Chart
FKM Viton ® Type

A

B

F

GF

GLT

GFLT

XLT

ULT

ETP

Aflas ®

BRFKM

Marco Commodity Compound number

V1000

V1032

V1088

V1081

V1038

V1033

V1086

V1166

V1020

L1000

L1010

Relative Pricing
Availability

H2S %

2
5
5
5
5
5
10
10
5
20
40

High Temperature Performance F° (C°)
(Basic Static Applications)

437 (225)
437 (225)
437 (225)
437 (225)
437 (225)
437 (225)
437 (225)
437 (225)
437 (225)
450 (232)
450 (232)

Low Temperature Performance F° (C°)
(Basic Static Applications)

-15 (-26)
-11 (-24)
1 (-17)
3 (-16)
-40 (-40)
-29 (-34)
-54 (-48)
-65 (-54)
-6 (-21)
25 (-4)
1 (-17)
TR-10 Low Temperature Flexibility F° (C°)
1 (-17)
7 (-14)
20 (-7)
21 (-6)
-22 (-30)
-11 (-24)
-40 (-40)
-49 (-45)
12 (-11)
37 (3)
20 (-7)
Strong Base, high pH, Caustic, Amines
Low Molecular Weight Carbonyls 100%
concentration (MTBB, MBK, MIBK, etc.)
Engine Lubricating Oil, SG and SH
Aqueous fluids, steam, mineral acids
(H2So4, HNO2)
Aromatic Hydrocarbons (toluene, etc.)
Automotive Fuels Oxygenated with
MEOH, ETOH, MTBE, etc.
Engine Lubricating Oil, SE and SF
Resistance to Compression Set
Automotive and Most Aviation Fuels
| | | | | | | |
| --- | --- | --- | --- | --- | --- | --- |
| Rating Scale: | | = Excellent | | = Good | | = Not Recommended |